SLB300 is a brand-new type of electric upright bass that achieves natural sound and resonance by using the SRT POWERED system to simulate studio-quality sound in which the body resonance of a double bass was recorded using a high-quality microphone, all the while keeping a semi-solid body structure that emphasizes quietness and portability.
Body designed for a natural, pure acoustic tone
'Studio Resonance Technology' (SRT) restores natural body resonance to the overall tone
Three microphone emulation types
EQ control
Blend control to find the perfect tone
Refined Bass for Any Stage
Since the release of the SLB100 in 2000, Yamaha has continued to release Silent Bass™ models that fulfill user needs, cementing the Yamaha Silent Bass as standout brand in the electric upright bass genre.
The SLB300 delivers realistic acoustic bass sound and playability plus unparalleled Silent Bass functionality in a superb instrument that will bring the Silent Bass to more players and listeners than ever before.
Body Designed for Pure Acoustic Tone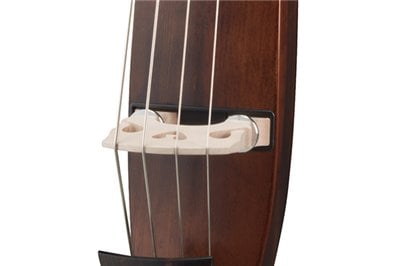 A hollow chamber and side slits help to reproduce natural acoustic resonance while minimizing unamplified volume.


SRT Powered System adds realistic body resonance
The SLB300 Silent Bass™ employs SRT Powered System technology to deliver acoustic instrument sound and response that is virtually indistinguishable from the real thing.
<About the SRT Powered System>
The Yamaha SRT (Studio Response Technology) Powered System is a digital technology that employs in-depth analysis of the acoustic properties of actual musical instruments to add natural-sounding body resonance in real time to instruments such as the Silent Bass™ that do not have a physical resonant body.
This system adds simulated body resonance to the analog signal output from the instrument's pickup so that the performer's own playing technique and nuances are delivered without compromise. No sampling or sample playback is involved.
* These graphs are provided to illustrate the effect of the SRT Powered System, and do not represent the system's actual frequency response.
Three microphone types, EQ, and blend control deliver ideal sound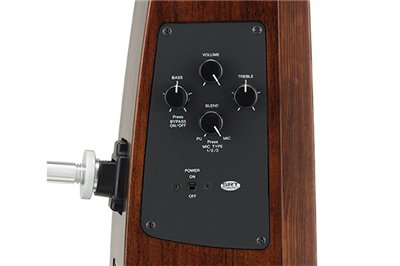 Acoustic body resonance as picked up by three well-known and prized studio microphones is realistically simulated. (SRT Powered System)
The SRT Powered System is used to simulate the response of three well-known and prized studio microphones. The microphones can be selected via the MIC TYPE selector, and the sound adjusted via the BLEND and BASS/TREBLE controls to ideally match a wide range of musical genres, ensembles, performance locations, and more.
Three Microphone Types
1. Rich : A highly valued vintage tube microphone that delivers smooth, well-balanced sound.
2. Simple : A dynamic microphone that is often used for its clear, well-defined sound.
3. Warm : With a different tube microphone character than number 1, this classic microphone is known for a more emphasized low range and overall warmth.
Blend Control
The BLEND control adjusts the mix between the simulated microphone signal and the signal from the instrument's pickup. The blend can be seamlessly adjusted from direct pickup output with no microphone simulation to full microphone simulation when maximum depth and harmonic richness are desired.
EQ Controls (Bass / Treble)
The BASS and TREBLE EQ controls are optimized specifically for this instrument, allowing tonal response to be matched to a wide range of performance situations.
Designed to require no change from standard acoustic bass technique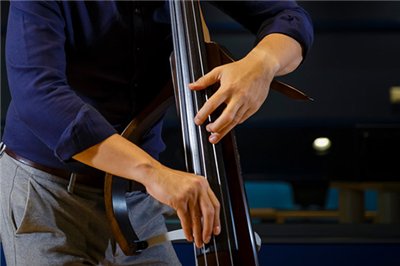 The SLB300 exterior design is inherited from the SLB200. A compact, simplified shape does away with nonessential mass and volume. An acoustic bass shaped frame and a center of gravity designed to minimize rotation further enhance playability, while the bridge, fingerboard, neck and other critical parts are in positions that require no change in hold or playing technique from traditional acoustic basses.
The SLB300 also uses standard contrabass strings, so the user can choose the strings that he or she prefers.


Antique style finish with consistent frame and body color for a natural wood feel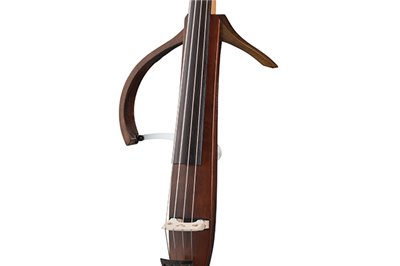 The body and frame feature an antique style finish that emphasizes the qualities of the wood and exudes a natural elegance. The finish will look and feel familiar to acoustic upright bass players.
* The wood grain will be different in each individual instrument.


Supplied soft case for easy transportation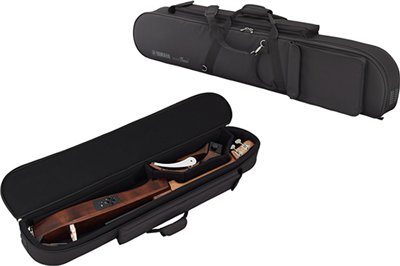 When packed in its dedicated soft case, the SLB300 takes up just approximately 25% of the volume of an acoustic bass.


Easy setup
The SLB300 comes with an optimized pickup system and preamplifier already installed, and can be directly connected to a wide range of equipment without further setup or adjustment.
SLB300
Size
String Length 1,040mm (41")
Neck
Maple
Body
Spruce/Mahogany
Frame
Beech (Detachable)
Finger Board
Rosewood
Peg
Worm gear type
Tailpiece
Ebony (Reverse Type)
Bridge
Maple (Height Adjustable)
Pickup
Piezo Pickup
Strings
D'Addario Helicore Hybrid Light
Electric Controls
• Volume control knob • Treble control knob • Bass control knob / Bypass button • Blend control knob / Microphone type switch button
In/Out Jacks
Line Out
Power Supply
AA battery (alkali or nickel hydrogen) x 2
Battery Life
Alkaline
Approx. 32 hours
Nickel hydrogen
Approx. 26 hours
Weight
7.2kg (15 lbs. 14 oz)
Accessories
Soft case, Mute, Allen wrench
Related Products
Tags: Yamaha SLB300